USL Super Y Regional Summer League 2022
REGISTRATION OPENS SOON
CPSSC B2007: 2021 Super Y National Semi-Finalists
FAQ's
What is the Super Y League?
Essentially it's a regional league played in the summer for serious soccer players who want to improve their game.
Teams from all over the country compete in the Super Y regional leagues. At the end of the summer, league winners and best runners up will qualify for the National Finals held early December in Tampa, FL.
When does it start and run?
The program runs from early June through late July.
What's involved?
Twice weekly training sessions for 6 weeks held in Chelsea Piers.
An 8-game league season where home games will be in Stamford or Greenwich.
Most games will be at weekends with the odd mid-week game.
Where do we travel?
CPSSC is the only club in Connecticut with the Super Y franchise, so away games will be in the tristate area.
What age groups do CPSSC offer in 2022 and who can sign up?
U13: Born in 2010
U14: Born in 2009
U15: Born in 2008
U17: Born in 2006/2007
U19: Born in 2004/2005
Non- CPSSC players also have the opportunity to play Super Y for CPSSC as this doesn't conflict with USYS player registration, but would have to tryout.
What is the commitment?
Once registered, you have the opportunity to attend all practice and games*. We do fill a full roster to allow absenteeism due to family vacation plans without disrupting game day rosters sizes.
Girls 2006 @ the 2021 Super Y Nationals
Who will coach it?
CPSSC's qualified coaches or similar level coaches recruited.
What is the cost?
The cost is $725 for current CPSSC players, $835 for Non- CPSSC players (including game/practice jerseys).
What are the benefits?
The opportunity to train / play for over 35-hrs in the summer months.
Play strong competition to improve as a player technically, tactically, physically and mentally.
Stay sharp and in good shape for fall Premier or High School soccer seasons
Collect quality VEO game footage to add to your college personal highlight video
The opportunity to invite college coaches to games for recruitment purposes during college down time.
USL Experience (USLX)
Top performing players each summer will be selected for the league's player ID program and invited for a unique experience at a USL professional club where they will 'live the life of a pro' for a few days.
At Shoreline, we had 4 players and 1 coach selected for this.
When should you let me know?
Once you have checked your availability and can commit to the program, please reach out to secure your roster spot. Once rosters are full, they will be frozen.
Who should I contact?
Super Y Director, Danny Simpson ( 203. 989-1705) to sign up, request a tryout or to answer and questions or queries.
What is the USL Super Y Program?
The USL Super Y Program has been a mainstay in youth soccer for over 20 years now. It has a proven history of upholding the highest standards and accountability for its member clubs and players. Over 12'000 athletes on over 600 teams from more than 90 clubs through 25-states compete in the SYL program. CPSSC is Connecticut's only Super Y representative!
The Super Y League runs in the summer months, avoiding conflict with the State/Regional Premier leagues and CT State Cup. SYL offers the opportunity to compete for a National Championship (one of only three youth national championships). This'll be our 8th season of participation. In previous seasons, we've had FIVE teams qualify for the SYL National Finals. Porto (Boys 2002/03) were beaten Semi-Finalists in 2018 and Liverpool (Boys 1998/99) were crowned National Champions in 2015!
Why would it benefit me?
The SYL program assists college recruitment by a) giving college coaches the opportunity to watch LIVE games in their summer downtime and b) utilize game footage taken by CPSSC of the SYL season. It is a development pathway for players/teams to compete against the best competition regionally to qualify for the SYL national finals held in Florida in December. The SYL monitors each game with its scouting network looking for the most talented players to invite to the "USL experience" (a unique, environment for Super Y League's top young players. A 4-day event with professional USL clubs, these players get an insight to being a professional player).
What are the details?
-
CPSSC will offer a 6-8 week program from Mid-June through Late-July
- Selected CPSSC players and the best Non- CPSSC players form squads
- Practice twice-a-week @ Chelsea Piers
- Only our most qualified coaches will be assigned to the SYL program
- The regional league will consist of 8 league games (weekends & midweek)
- Our North Atlantic league consists of clubs like; Westchester Flames, Long Island Rough Riders, Gottschee, Ironbound, Cedar Stars, etc.
- Home games played in Greenwich, away games in NY or NJ.
- Regional league winners and best runners up qualify for the National Finals held in Tampa, Florida in December and the chance to be crowned NATIONAL CHAMPIONS!
What does it cost?
The CPSSC Super Y Program costs $725 for current CPSSC players and for non- CPSSC players, $835 including game/practice jerseys.
1998/99 National Champions 2015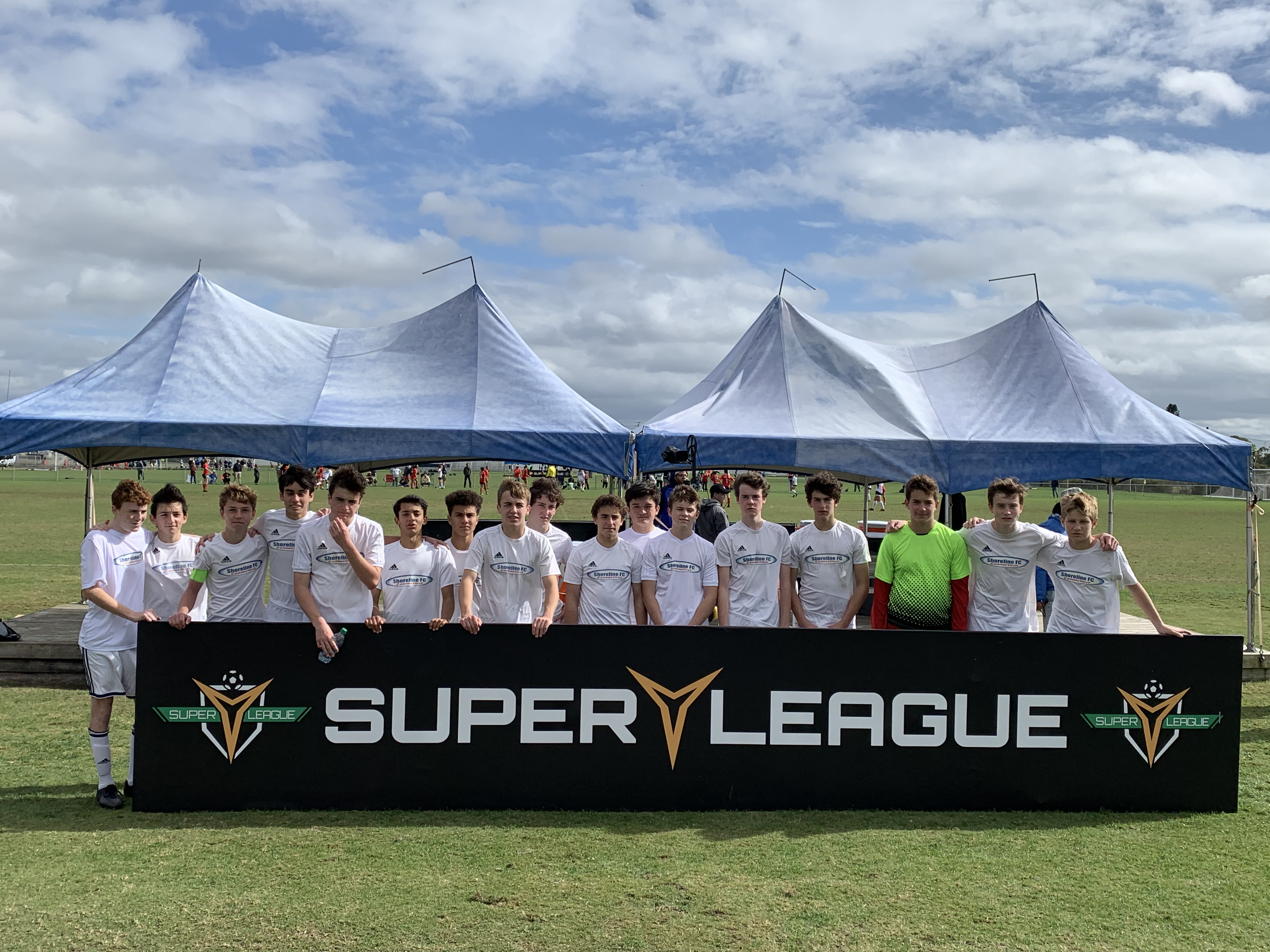 2002/03 2018 National Semi-Finalists
Players and Coaches who've attend the USLX through Super Y
​
02/03 boys enjoying down time in 2018
The Super Y Nationals are held at Hillsborough County Sportsplex, Tampa, Florida
Do you want to be part of our Super Y Program?
Please contact Super Y Director Danny Simpson for more info